Great Dining Is a Home Run at The Porsche Grille in Citi Field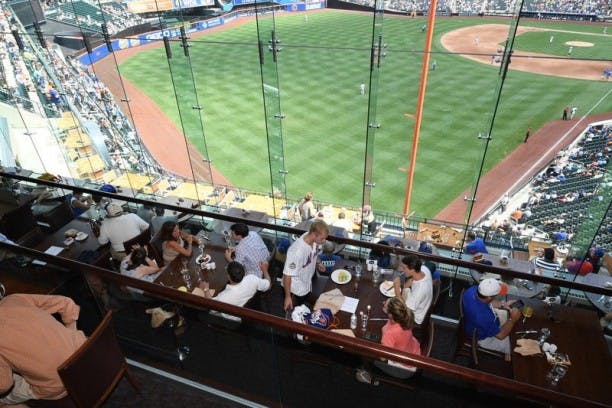 Every time one enters Citi Field, there is a sense of wonder, excitement, and expectation. The sights, sounds, and aromas abound, and at the festive Porsche Grille, our all-star dining line-up has our guests stepping up to the "plate" with gusto. The Porsche Grille is an upscale and accessible 350 seat restaurant with a multi-tiered dining room, outdoor patio seating, and panoramic views overlooking left Field. There are flat screen TVs everywhere inside, so not a minute of the action on the field is missed. Located on the Excelsior Level, Porsche Grille is open to most special ticket holder locations.
The Myriad Restaurant Group, working with Aramark and the New York Mets is serving up a savory menu of contemporary American fare. A full bounty of Italian, Latin, Greek, and Asian cuisines are offered throughout the season. Diverse Market Table Selections include Butcher's Block with Charcuterie, Artisanal Cheese, and Assorted Hearth Baked Breads. There is an Antipasto Bar with several selections of sumptuous salads. An Al Forno Table has a rotating selection of Chef Paul Horowitz's Seasonally Inspired Pastas, Specialty Meats, & Signature Oven Roasted Dishes. There is also an array of Traditional Brick Oven Pizzas. A Nathan's Famous New York Style Hot Dog Cart adds to the festivities. The Market Tables are available for both Day and Night games. At Night games, a selection of Main Dishes is also available, featuring winning choices such as a Miracle Mets Cheeseburger, Rotisserie Chicken, Pan Seared Cod, Grilled Colorado Lamb Chops, and New York Strip Steak.
A comprehensive Bar Menu and enticing Dessert Menu is also available. One of the many new choices for the 2019 Season is a "Build Your Own Sundae" with a generous selection of toppings.
In the classic movie, "Field of Dreams," the question was asked, "Is this heaven." For those guests enjoying wonderful, hearty food, and taking in a ballgame at the Porsche Grille, the resounding answer is "Yes!."